Rukovoditel Extension includes a set of reports and tools for better planning and management.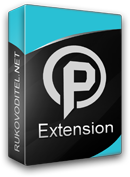 Price: $295.00
The Extension includes a set of reports and tools for more efficient planning and data management. By purchasing the Extension, you buy ALL the features described below. This way, you can try different data management approaches and choose the most suitable one for your business.
Extension is open source, not affiliated with any country and additional online libraries. It can works without network.
One-off charge
Price is a one-off charge and all future updates for free.
30-day personal demo
Try to configure your application using all the functionality of the Rukovoditel platform. The demo version is being prepared on the server rukovoditel.net and includes the Extension. At the end of the test period, you can transfer the database from the demo version to your server.
To install personal demo create account, please. Under "My Account" page go to "Personal Demo" page to request demo. Demo will be installed automatically for your account.
Request a demo
---
---